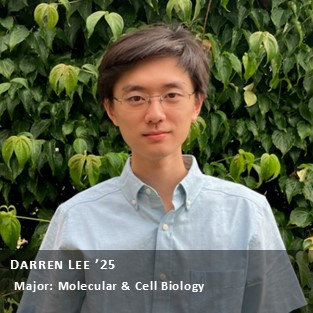 Darren (he/him) is a junior majoring in Molecular & Cell Biology. His research interests are related to the interactions between microbes and their animal hosts. Outside of being a Peer Research Ambassador, Darren has served as a UNIV 1784 facilitator and volunteers at the Hill-Stead Museum in Farmington, CT. When he isn't busy with classes or research, he can often be found working in his garden.
Darren first entered the world of research at UConn during his freshman year, where he developed a Holster Scholar project under Dr. Jonathan Klassen's mentorship studying how fungus-growing ants communicate with their fungal partners when defending the fungus against pathogens. During the academic year, he has also worked in Dr. Joerg Graf's lab characterizing several genes in the bacterium Aeromonas veronii and examining how they affected the bacterium's ability to colonize the gut of its medicinal leech symbiont.
Since the summer of 2023, Darren has been a member of Dr. Yanjiao Zhou's lab at UConn Health, which focuses on computational biology work related to the human microbiome, through the Health Research Program. He's been excited to take this opportunity to expand his understanding of research methods and immerse himself in data analysis.
Darren has found research to be an extraordinarily rewarding process and hopes that every UConn student can have the opportunity to pursue this unique experience. He understands that it can be pretty intimidating to get started (after all, he was in the same position just a year and a half ago!), and he hopes that he can be a helpful resource as you take your first steps. He would be eager to talk with you about getting started in research, pursuing funding opportunities, or just to chat!
Student Research Blog Posts by Darren: