Reviving Recipes, Rethinking Our Food System: A Community Cookbook Project for




Connecticut Shoreline Residents
Fall 2021 UConn Co-op Legacy Fellowship – Change Grant Project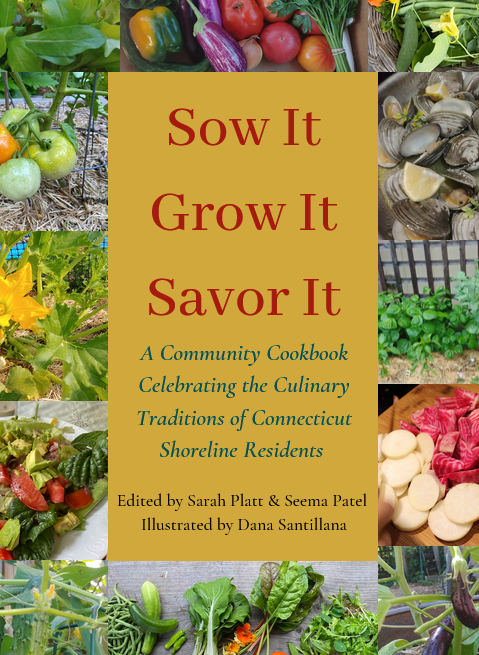 Project Summary
Sow Grow Savor (SGS) is an intergenerational edible gardening program that seeks to reduce social isolation and promote the holistic health of CT residents. With funding from the Change Grant, we furthered SGS's mission by publishing a unique community cookbook that highlights shoreline residents' culinary stories and traditions. The disconnect between food and traditions is a growing concern that has been exacerbated by the rise of culinary commodification. Our cookbook project aims to address these issues locally by facilitating intergenerational exchange and increasing awareness of gardening and cooking practices that residents know, use, and treasure. The cookbook not only revives overlooked culinary stories but also highlights ingredients that can be affordably purchased from local growers.
Click here to view the cookbook online.
Reflecting on the Project
Developing the cookbook was a time-consuming yet enjoyable process because we had the pleasure of learning about the diverse background and life stories of our recipe contributors. In the cookbook, we included a brief write-up for a specific ingredient from each recipe. This helped us appreciate the origins and historical context of commonly used ingredients. We also developed new skills such as graphic designing and formatting the cookbook so that it is both functional and aesthetically pleasing. We recruited UConn undergraduate students to edit the cookbook and worked with a fellow UConn student-illustrator, Dana Santillana, to incorporate water-color images throughout the book. Working with a team of students with diverse skill sets was essential to ensure that the cookbook was in its best form when printed. This summer, we will host a fundraiser to sell the cookbooks and will be using the proceeds to fund future SGS activities!
About Seema
Seema is a senior Molecular and Cell Biology major with a minor in Healthcare Management and Insurance Studies. She enjoys making delicious meals using produce grown from her garden. Seema will attend medical school this fall and hopes to holistically address her future patients' healthcare needs.
About Sarah
Sarah is a senior Biological Sciences major with a minor in French. Growing up in along the CT shoreline, she noticed a gap between generations that she felt could be bridged through a unique program combining gardening and cooking activities. She's now in her third year running Sow Grow Savor! She hopes to take what she's learned from this community project to inform her future research and medical pursuits.