Project Clean Surf
Fall 2021 UConn Co-op Legacy Fellowship – Change Grant Project
Project Summary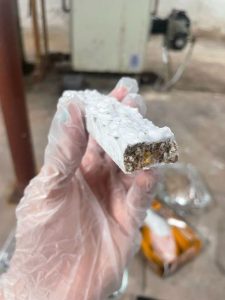 Project Clean Surf is an eco-friendly alternative to the standard styrofoam surfboard core. This project's initial goal was to make a surfboard out of ocean trash and other solid waste in an effort to clean up our oceans. During this project, we not only found how ineffective that idea would be when it came to creating something for further use, but also how toxic the surf industry and surfboards are as a whole. It took a lot of convincing to move away from the idea of using garbage but what this project has become is a way to eliminate plastic use for a surfboard core altogether.
Project Clean Surf is an eco-friendly surfboard core made out of mycelium, the vegetative structure of fungi. Mycelium was one of the first bio-materials we decided to work with and it continues to be the most promising. This project consisted of two parts, research and testing. A long period of time was put into finding which mushroom strains would be the best, along with substrates, and growing methods. The bulk of our funding was used on buying the mycelium kits which we grew in various ways to test out different aspects such as ideal humidity, compression, and growth period. At the end of this nearly 2-year-long project we are left with 90 pages worth of research notes on how to utilize this material, as well as an alpha prototype.
What's Next
This project was never meant to be something that would end. The next step in Project Clean Surf's story is the transition into a startup business, which recently began with a bang. After competing and placing in UConn's Get Seeded event as well as Innovation Quest, Project Clean Surf was invited into the CCEI Summer Fellowship for entrepreneurship as well as the UConn School of Business InQbator. Amelia will participate in both programs this summer while establishing the business and perfecting prototypes.
The Co-op Legacy Fellowship was the start of this project and many great ideas. There are still plans to incorporate ocean plastic and solid waste into other products in the business, as this will always be the issue that started it all. Until then, we hope this project serves as proof that there is always a way to be sustainable and eco-friendly, you just need to think outside the box. Also, don't forget to look for the business with the new name, Mud Rat Surf!
About Amelia
Amelia Martin is a recent UConn graduate with a major in environmental studies. She will be staying at UConn to continue her studies in pursuit of a master's degree in plant science. Amelia's hobbies include making surfboards, hiking with her dog, and catching bugs. Her dream is for her new business, Mud Rat Surf, to change the sustainability standard in the surf industry and set an example for how biomaterials can be used to better everyday life.
About Alex
Alex Pericolosi is also a recent UConn graduate with a major in chemical engineering and minor in material science. Alex will be staying in Connecticut to begin his career in Pratt & Whitney's Engineering Development Program.  He also plans on returning to school for advanced degrees in engineering and to receive an MBA to further his engineering career.  Alex's hobbies include basketball, exploring new restaurants, and being with friends.