GloHub: An Educational Platform to Revolutionize the Global Health Space

Fall 2020 UConn Co-op Legacy Fellowship – Change Grant Project
Project Summary
Global health is one of the fastest growing fields over the last few decades, whether we look at the dramatic increase in global health programs across the country or development of health-related nonprofits and organizations around the world. However, entry into the field is often restricted by misconceptions, such as the idea that global health is a field for healthcare professionals or that global health is the health of "other"  communities rather than our own. While global health is a field with complex problems, which require innovative and interdisciplinary solutions, the current educational resources mainly cater to health professionals, leaving the potential of millions of innovators untapped.
In efforts to address these issues, we developed GloHub: A web platform giving aspiring global health innovators the resources and community they need to affect change worldwide and build a future with health justice for all! GloHub has three main goals:
Democratize access to global health resources & research – provide a resource bank of academic journal articles accompanied by significance statements, or shortened summaries that do not contain academic jargon and are accessible to the layperson
Enable advocacy for sustainable local and global solutions – we believe that community members are the best advocates for their own communities. We thus seek to empower students to get involved by exposing them to the field of global health in an easily digestible way. We have created an advocacy toolkit with the support of an OUR IDEA grant, which is featured on our platform.
Foster collaboration between all individuals interested in global health – global health is perhaps the most interdisciplinary field there is! This is demonstrated not only on a personal level through the diversity of our academic interests, but also through our work in making these resources accessible to people regardless of their personal, academic, or professional backgrounds!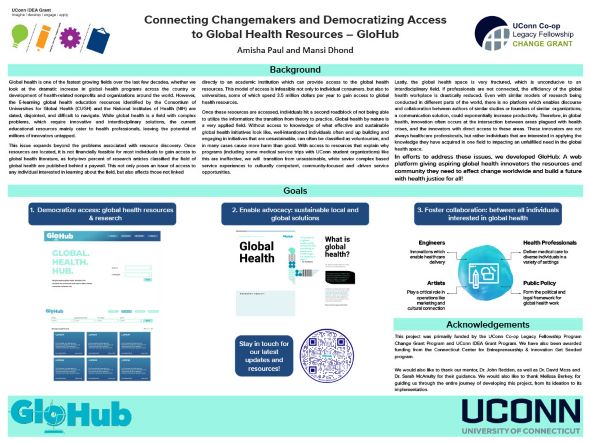 Project Reflection
We have both learned a tremendous amount through the planning and execution of this project. Going into it, we did not anticipate it becoming as big of an undertaking as it turned out to be. We have both developed our knowledge and passion for the field of global health, as well as developed a significant number of transferable skills. We have learned a lot about science communication and the need to make resources accessible to a diverse population, accounting for various educational levels and the limits that different disabilities pose. We look forward to expanding our web platform and sharing it with people across the entire global health community. We are especially grateful to the Office of Undergraduate Research for providing us the funds and to Melissa Berkey for providing us with constant support and guidance throughout this process!