Exploring Affective Polarization in the UConn Student Body
Spring 2021 UConn Co-op Legacy Fellowship – Change Grant Project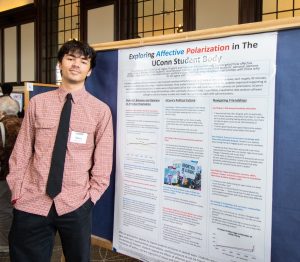 Hi Everyone!
My name is Musa Hussain and I spent this past year speaking with University of Connecticut students and faculty members to understand how affective polarization affects our social decision-making. I first became interested in studying polarization through my observations of the rampant political polarization that has increasingly plagued our country in the past ten years. Currently at an all-time high, and seemingly rising all the time, polarization in the United States has arguably become one of the defining characteristics of the current political moment. Families are divided along political lines, activists from either side clash in the streets, and politicians at all levels of government paradoxically call for unity while condemning their opponents and supporters as "crooked" or "a basket of deplorables".
Indeed, college students are no different. During my time at UConn, I have watched deep political divisions between the student body cause tension, social fragmentation and a lack of politically diverse discourse. I wanted to know why we find it so hard to talk across the aisle, and was curious as to how we can promote respectful discourse without compromising political values.
However, I also knew that political polarization is an enormously broad field to study, and it would be impossible for me to embark on a research project that investigated all questions that might arise in the subject. I decided to focus on affective polarization—which refers to the personal and emotional divisions political polarization creates—because it was what I saw as most impactful on the day to day lives of my fellow students. That brings me to why I decided to focus on social decision-making; in the day to day lives of students, little more is important than creating, developing, and maintaining friendships. The fact that polarization has begun to affect how students go about making friends was of great interest to me, and I decided to investigate. After completing my Institutional Review Board requirements, I conducted a lengthy literature review looking at polarization trends across the country and the psychological mechanisms and factors behind feelings of hostility towards out-party members. I then created an interview guide with questions around affective polarization and friendships that I used to interview fifteen UConn students with a range of political opinions.
While I found each interview fascinating, it was tough work analyzing each transcription, looking for patterns in interviewee answers, and creating themes that could represent my general findings. After hours of analysis, I came up with a few key findings; students believed open-mindedness, respect, and effort were key to maintaining friendships across the aisle. At the same time, most students reported politics as not being the basis for their friendships and they believed there were other factors in the relationship that made it strong, not an agreement on political issues. Finally, it was clear that issues within the realm of identity politics were most divisive. I presented these findings, among others, in a poster board at the 2022 UConn spring frontiers poster presentation where I shared my research discoveries with members of the university community. I emphasized how important it was for students to make an effort in befriending those with different political views, and I also shared my findings on social media in order to amplify my research and encourage others to realize the issues, but also the solutions for political polarization.
On a personal note, this project helped me cement my passion for qualitative research; I realized that while I liked digging deeper into literature, what I really enjoyed was interviewing people and learning from their experiences directly. I plan to carry this passion into graduate school where I hope to engage in more research on polarization and work to develop policy solutions which all Americans can get behind.