Please join us in congratulating the UConn undergraduates named below for their significant research and creative accomplishments in summer and fall 2016. Students: if you have an accomplishment to share, please do so using this online form.
AWARDS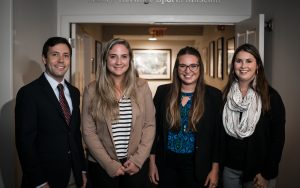 Audrey Gallo '18 (ENG) completed a summer internship with LambdaVision, a UConn Technology Incubation Program startup company. She was mentored by Nicole Wagner, CEO of LambdaVision and Assistant Research Professor in Chemistry at UConn. Audrey completed the Connecticut Center for Entrepreneurship and Innovation Summer Fellowship program, presented her research at the 2016 Massachusetts Life Sciences Innovation Day, and tied for first place in the Wolff New Venture Competition. Pictured are LambdaVision founders Dr. Jordan Greco '10 (CLAS), '15 Ph.D. (far left), and Dr. Nicole Wagner '07 (CLAS), '13 Ph.D. (far right), with undergraduate interns Molly Zgoda '17 (CLAS) and Audrey Gallo. Photo by Nathan Oldham/UConn School of Business.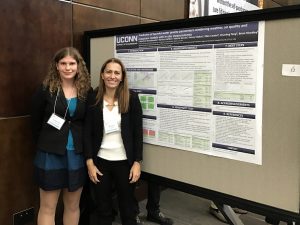 Congratulations to Catherine "Catrina" Nowakowski '17 (ENG), one of three student winners of the CMAS Student Poster competition, and the only undergraduate winner. Catrina presented her research at the Community Modeling and Analysis System (CMAS) annual conference in Chapel Hill, NC on October 25, 2016, and is pictured at right with her faculty advisor, Marina Astitha, Assistant Professor of Civil & Environmental Engineering.
---
PUBLICATIONS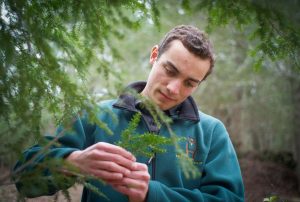 Nick Russo '18 (CLAS) was the first author on a recent publication from the Tingley Lab:
Russo, N.J., Cheah, C. S.-J., Tingley, M.W. (2016). Experimental Evidence for Branch-to-Bird Transfer as a Mechanism for Avian Dispersal of the Hemlock Woolly Adelgid (Hemiptera: Adelgidae). Environmental Entomology, 45(5): 1107-1114. doi:10.1093/ee/nvw083
---
EXHIBITIONS
Fall 2016 brought us incredible exhibitions by the following undergraduate students:
Michael Amato '17 (SFA) – SURF Award and OUR Supply Award recipient
Flowhana: Photographs of the Hawaii Fire Artists
Raeanne Nuzzo '17 (SFA) – UConn IDEA Grant recipient
Fear: The Culture
---
OFF-CAMPUS RESEARCH ACTIVITIES
Three UConn students participated in the Jackson Laboratory Summer Student Program: Jennifer Allocco '17 (CLAS) at the Bar Harbor, ME campus; and Nicole Gay '17 (ENG) and Rujia (Lucia) Lian '19 (CAHNR) at the Farmington, CT campus.
Jessica Griffin '17 (CAHNR, CLAS) conducted research in summer 2016 through the Lake Champlain REU at the University of Vermont. She worked under the direction of Dr. Jason Stockwell examining the feeding preferences of lake invertebrate Mysis diluviana.
Savanna Smith '18 (ENG) participated in the SURE Robotics program at Georgia Tech University in summer 2016. Her project, Detection Based Clinical Gail Analysis, was supervised by Dr. Patricio Vela, Associate Professor, Electrical and Computer Engineering.
---
PRESENTATIONS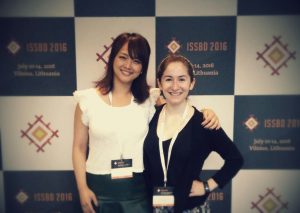 International Society for the Study of Behavioral Development (ISSBD) Biennial Meeting – July 10-14, 2016 – Vilnius, Lithuania
Samantha Lawrence '17 (CLAS) – OUR Travel Award recipient
Justifying Bullying: How Previous Experiences Predict Adolescent Moral Reasoning about Exclusion Used to Bully in Same-Race and Cross-Race Situations
International Lichenological Symposium – August 1-5, 2016 – Helsinki, Finland
Dinah Parker '17 (CLAS)
Two Lichens, One Fungus: The Identity of Dendriscocaulon intricatulum

American Chemical Society (ACS) National Meeting and Exposition – August 21-25, 2016 – Philadelphia, PA
John Ovian '17 (CLAS) – OUR Travel Award recipient
Oxoammonium Salts: Powerful yet Practical Reagents for Oxidation and Oxidative Functionalization in Chemistry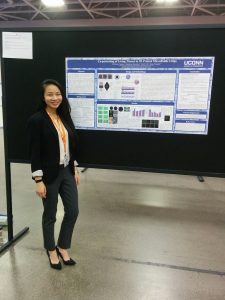 Biomedical Engineering Society (BMES) Annual Meeting – October 5-8, 2016 – Minneapolis, MN
Cameron Flower '17 (ENG) – OUR Travel Award recipient
Discovery of lncRNA-Encoded Peptidome in Mouse Kidney Inner Medulla
Christiane Nguyen '17 (ENG) – OUR Travel Award recipient
Co-patterning Of Living Tissues in 3D-Printed Microfluidic Chips
American Physical Society Division of Nuclear Physics Fall Meeting – October 13-16, 2016 – Vancouver, BC

Christine Ploen '17 (CLAS)
Beam Line Background Studies for the Electron-Ion Collider at Jefferson Laboratory: A Critical Foundation
Society for Advancement of Chicanos/Hispanics and Native Americans in Science (SACNAS) Conference – October 13-15, 2016 – Long Beach, CA
Gabriella Reggiano '17 (CLAS) – Winner for Outstanding Poster Presentation in Biochemistry/Biophysics – OUR Travel Award recipient
Molecular Dynamics Simulations of Human Cardiac Calsequestrin and the Mutation E39K
Community Modeling and Analysis System (CMAS) Annual Conference – October 24-26, 2016 – Chapel Hill, NC

Catherine Nowakowski '17 (ENG) – Winner of the 2016 CMAS Student Poster Competition – OUR Travel Award recipient
Prediction of Harmful Water Quality Parameters Combining Weather, Air Quality and Ecosystem Models with In-situ Measurements
Obesity Week 2016 – October 31-November 4, 2016 – New Orleans, LA
Jacob Naparstek '18 (CLAS) – OUR Travel Award recipient
Internet-Delivered Obesity Treatment Improves Depression Symptoms
National Association for Multicultural Education International Conference – November 9-13, 2016 – Cleveland, OH
Kathrine Grant '19 (ED, CLAS) – OUR Travel Award recipient
Identifying and Using Critically Conscious Film to Address Education Inequity/Verplank Elementary School: A Rich Tapestry
Northeastern Political Science Association Annual Meeting – November 10-12, 2016 – Boston, MA

Amy Saji '19 (CLAS) – OUR Travel Award recipient
Reel v Real: Assessing the Lessons of Law and Order: SVU within the Current Legal and Political Climate
Society for Neuroscience (SFN) Annual Meeting – November 12-16, 2016 – San Diego, CA
Saheeb Ahmed '17 (CLAS) – OUR Travel Award recipient
Social and Environmental Factors Influencing Exploration of a Novel Environment
John Pflomm '17 (CLAS) – OUR Travel Award recipient
Inactivation of Medial Prefrontal Cortex, Dorsal, or Ventral Hippocampus during a Temporal Sequence Task in a Radial Arm Water Maze
Molly Potter '17 (CLAS) – OUR Travel Award recipient
Effects of Caffeine and Hypothermia on Neuropathology in P6 Rats with Experimentally Induced Hypoxic Ischemic Brain Injury
American Institute of Chemical Engineers (AIChE) Annual Meeting – November 13-18, 2016 – San Francisco, CA
Daniel Dougherty '17 (ENG) – OUR Travel Award recipient
Study of Microstructures and Surface Treatment Techniques on the Drying Rate of Simulated Soil Micromodels in Microfluidic Devices
Nur Hamideh '17 (ENG) – 1st place in the Food, Pharmaceutical, and Biotechnology Division – OUR Travel Award recipient
Characterization of Polysaccharide Solutions Using Microrheology: Surface Charge Effects
Cameron Harrington '17 (ENG) – OUR Travel Award recipient
Cell Culture of the Termite Gut Microbiome Using a 3D-Printed Synthetic Microhabitat
Alyssa Pierne '17 (ENG) – OUR Travel Award recipient
Gradient Bioengineering of the Termite Gut Microbiome
The Society for Judgment and Decision Making Annual Meeting – November 18-21, 2016 – Boston, MA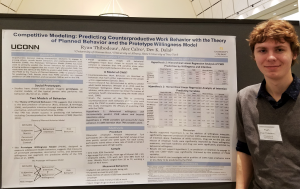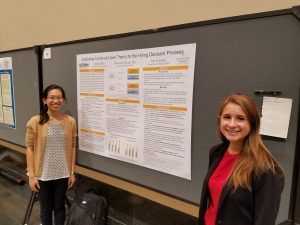 Emily Roller '17 (CLAS) – OUR Travel Award recipient
Extending Construal Level Theory to the Hiring Decision Process
Ryan Thibodeau '17 (CLAS) – OUR Travel Award recipient
Competitive Modeling: Predicting Counterproductive Work Behavior with the Theory of Planned Behavior and the Prototype Willingness Model
American Society for Cell Biology (ASCB) Annual Meeting – December 3-7, 2016 – San Francisco, CA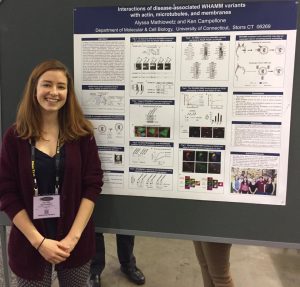 Alyssa Mathiowetz '18 (CLAS) – OUR Travel Award recipient
Interactions of Disease-Associated WHAMM Variants with Actin, Microtubules, and Membranes
---