By Samantha Ruggiero CLAS '14, originally published May 19, 2014 in CLAS News.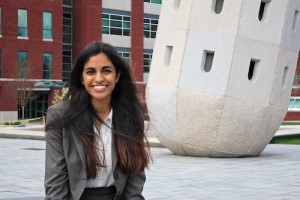 Ragini Phansalkar will pursue her MD and PhD at Stanford in the fall of 2014.
For senior Ragini Phansalkar, bridging the gap between different fields of research through her dual degree in computer science and biology has been like solving an exciting puzzle – and one that has taken her around the world.
"I think a lot of the advancements that are going to be needed to overcome today's medical challenges are going to be achieved through interdisciplinary collaboration," says Phansalkar. "Biomedical engineering is interdisciplinary, but I liked having the freedom to choose for myself the aspects of engineering and biology that I wanted to integrate, specifically bioinformatics."
Phansalkar has spent the past four years at UConn combining computational science with biological sciences by working in the labs of Assistant Professor Daniel Schwartz of the Physiology and Neurobiology Department and Assistant Professor Barbara Mellone of the Molecular Cell Biology Department. Phansalkar's interdisciplinary research experiences at UConn have developed her interest in pursing the medical field, and earned her acceptance to the MD/Ph.D program at Stanford University.
"There are so many ways that you can combine medicine, biological and computational sciences," says Phansalkar. "With the dual degree, I was able to get a taste of what it's like to meld two separate fields."
Phansalkar says that for her senior thesis, she combined her research experiences working in both Mellone and Schwartz's laboratories with her knowledge of computer science to improve a software called scan-x, developed by Schwartz, to predict patterns in protein sequences.
Schwartz says that Phansalkar's work is of the same caliber of a "very talented graduate student."
"Ragini's maturity, independence, and passion for research made her an indispensable part of my lab and a pleasure to work with," says Schwartz.
Phansalkar initially came to UConn as a biomedical engineer, but after assisting Schwartz and Mellone in their labs, she saw an opportunity to explore the medical field from both clinical and scientific perspective.
"I really love when you can pull together different subjects and build up an expertise in both fields," says Phansalkar.
Working with Schwartz and Mellone, says Phansalkar, not only encouraged her to pursue a dual degree in biology and computer science, but also to conduct research outside of UConn, including in Boston and Paris.
Through the UConn Honors Program and the Office of Undergraduate Research, Phansalkar participated in the Physician Scientist Internship Program the summer after her freshman year. At the internship, Phansalkar conducted research and observed surgeries at St. Elizabeth's Medical Center in Boston under the supervision of a chief neurosurgeon. Phansalkar says this internship cultivated her desire to pursue the medical field as a career as both a physician and scientist.
"I realized loved the duality of seeing [what was developed in lab] and then seeing the application of that through interacting with patients," says Phansalkar.
Then, in the summer after her sophomore year, Phansalkar headed to Pasteur Institute in Paris for 10 weeks through the Pasteur Foundation Summer Internship Program to assist in developing biological image processing software, specifically designed for kidney biopsies. Phansalkar says it was a rewarding experience because she not only worked on the type of computational biology research that interests her, but also had the opportunity to explore French culture.
"I promised myself that I would speak French as much as possible," says Phansalkar. "I really wanted to immerse myself in the culture and interact with people from all over the globe."
This fall, Phansalkar is looking forward to studying at Stanford University on a fully funded M.D./Ph.D program. With her four years of diverse undergraduate research, Phansalkar will be seeking out a path that will allow her to have a career that incorporates scientific research and clinical applications.
"I love the idea that you can be physician and scientist," says Phansalkar. "You get to be on the frontline to see what the patient needs, and then go back and develop those needs in the lab."
---