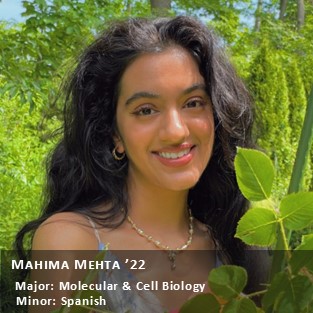 Mahima (she/her/hers) is a senior majoring in Molecular and Cell Biology and minoring in Spanish on the pre-medical track, with hopes to continue her studies in the medical field upon graduation. As a strong believer in climate change, she is the President of the UConn ESA SEEDS Chapter, where she strives to make a greener planet through ecological strategies for sustainability and increasing diversity. Mahima is also the President of the UConn Pre-Medical Society and has been a Biology 1107 mentor tutoring her peers for the past four semesters.
Mahima has been involved in research since the second semester of her sophomore year in Dr. Sarah Knutie's lab where she quantifies nest parasite abundance of eastern bluebirds and tree swallows in the Nest Parasite Community Science Study.
After being involved in the research study for a year, Mahima began to develop some of her own questions. She created her own project to explore the impact of elevated nest temperatures on DNA methylation of eastern bluebirds, combining her interest in climate change and genetics. Mahima was awarded a UConn IDEA Grant and she will be working on this project for her senior year with the intent to publish her own paper with the findings.
Research has been at the core of Mahima's undergraduate career. She believes that all students should find what they are passionate about and pursue it! If you have any questions about research, getting started, joining a lab outside of your major, applying for grants, or anything else, feel free to reach out!
Student Research Blog Posts by Mahima:
Contact Mahima
Undergraduate students can contact Mahima to ask questions or to request an advising meeting with Mahima.