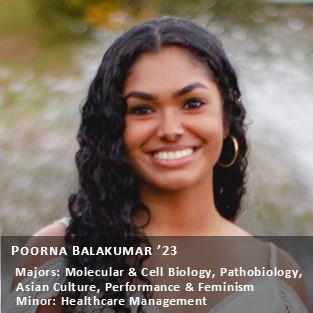 Poorna (She/Her/Hers) is a junior in the Special Program in Medicine, majoring in Molecular and Cell Biology and Pathobiology, and minoring in Healthcare Management and Insurance Studies; she also hopes to pursue an individualized major in Asian Culture, Performance and Feminism. In her free time, Poorna loves dancing and is the captain of UConn Thunderaas, a competitive Indian dance team. She also enjoys music and DJing, and serves as the co-host of two podcasts: Agents of Change, a podcast that shares student leadership stories on campus; and Listening to Medical Minds, a podcast that discusses mental health issues in the premedical and medical fields. (UConn Medical Minds Matter)
Before college, Poorna received the Dr. Bart Kamen Memorial Scholarship from FIRST Robotics, which recognized her success in research in high school and continues to support her research during her undergraduate years. At UConn, Poorna works under the Geary Laboratory in the Department of Pathobiology, where she studies the virulence mechanisms of human respiratory pathogens in order to better inform the development of vaccines and public health policy. This summer, she received the SURF Award to study Mycoplasma pneumoniae, a bacterial pathogen that causes pneumonia in high-density closed communities. She will also be pursuing clinical research at the Connecticut Children's Medical Center this upcoming year through their Undergraduate Research Assistant Program.
As a Peer Research Ambassador, Poorna advocates for any and all forms of learning, and highly encourages student creativity through the opportunities provided by the Office of Undergraduate Research. If you have any questions about getting involved in research, resources for women in STEM, or the premedical experience, please feel free to reach out with any questions!
Contact Poorna
Undergraduate students can contact Poorna to ask questions or to request an advising meeting with Poorna.