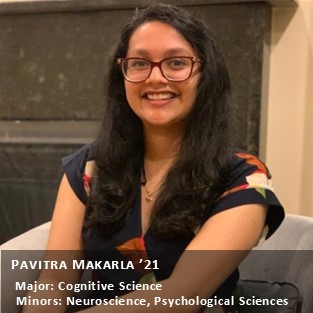 Pavitra (she/ her/hers) is a senior in the College of Liberal Arts and Sciences majoring in Cognitive Science with a double minor in Neuroscience and Psychology. She hopes to continue her studies in the medical field, studying psychiatry or neurology. Pavitra developed a passion for research after conducting an independent cross-cultural research project the summer of her freshman year and decided to get involved in the undergraduate research community, which she further pursued at UConn.
During her sophomore year, Pavitra was a member of Dr. Emily Myers' Language and Brain Lab where she assisted graduate students with studying how aphasics perceive speech signals through the use of psycholinguistic measurement techniques. During her time in the lab, she also co-authored the Lab Digest, which explained complicated experimental procedures being done in the lab in a more readable way to the aphasic population of the Mansfield area. Although she loved being a part of this lab, she knew that she wanted to expand her research to other areas within the psycholinguistic realm.
During the summer of before her junior year, Pavitra joined Dr. Gerry Altmann's Psycholinguistic Lab, where she currently works with Dr. Gitte Joergensen and Dr. Kathrin Rothermich (from East Carolina University) to study individual differences between nonliteral vs. literal language processing. During her time in the lab, she has been listed as an author on two papers. She was also accepted to present one of the papers at the Frontiers in Undergraduate Research Exhibition (2020), the AttLis Conference, LangFest, and the Cognitive Neuroscience Society Conference (2020), and used an OUR Conference Presentation Award in order to present there.
If you have any questions or concerns about how to get started in psychology and neuroscience-related research, how to choose a lab, find a mentor, apply for grants, or just want to talk about research in general, she is happy to help!
Student Research Blog Posts: