Colby Buehler '18, Chemical Engineering
Summer 2017 Co-op Legacy Fellow
Analyzing the Effect of Drift from Conventional to Organic Farmland
Project Summary
During the summer I conducted a 12-week study at two local, student run, organic farms: the Spring Valley Student Farm (SVSF) and EcoGarden. On the conventionally operated UConn farmland (corn and grass fields) located adjacent to SVSF and EcoGarden, synthetic herbicides and fertilizers are used to promote crop yield. At the SVSF and EcoGarden, no man-made herbicides or fertilizers are spread in order to keep their crops organic, but if a significant amount of drift occurs from the adjacent conventional farmland, then can the farms really be labeled as organic? The project objective was to quantify the airborne drift in order to answer that question.
Click here to read more about Colby's research.
Project Reflection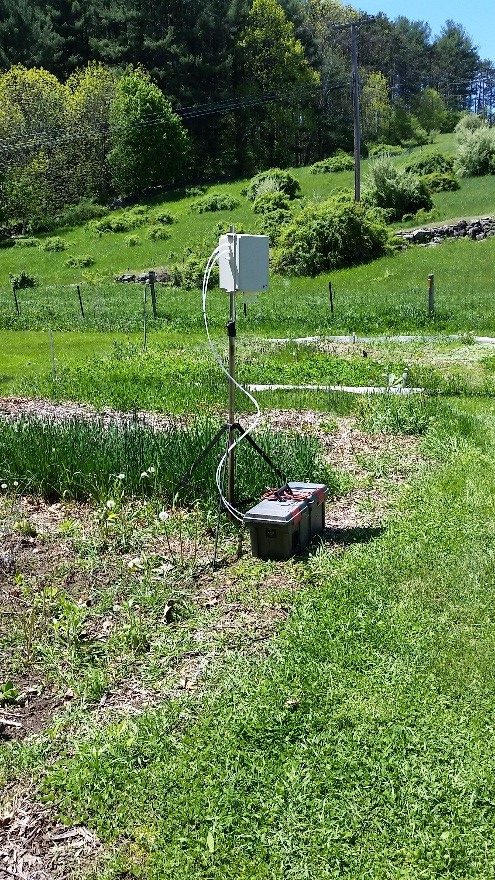 I have always thought that I wanted to go to graduate school but after completing this project I finally know that graduate school is the place I belong. Taking on a summer long independent research project gave me a look at what my life might be like in grad school and I enjoyed every bit of it. Being in charge of my own project, I got to explore aspects of the project that most interested me which made the work exciting and engaging. I could have spent my summer working for a company or doing rudimentary lab work as a part of an REU but I got to go out into the field and conduct an investigation on a topic that directly effects members of my community. This project has strengthened my desire to become a professor to perform independent research on environmental issues. I will be applying to graduate school later this semester for chemical and environmental engineering programs.
Even though I am a chemical engineer and not an environmental engineer I have always been more interested in environmental applications of chemical engineering than anything else. While my chemical engineering studies helped to prepare me for this project, I have learned so much about other disciplines such as agriculture, sustainability, and environmental science directly from the project. While interacting with fellow students at the SVSF I learned the basics of farming and what issues really matter to them. I knew most of the theoretical background to the project going in but I was at a loss for how to operate equipment and properly collect samples while in the field for an environmental study. This project helped fill out the skills I was missing as a researcher in a primarily theoretical lab.
Personally, I feel like drift is a topic that will continue to be a problem for the foreseeable future. Just this summer there was such widespread concern in Arkansas over the drift of dicamba that the state had to take action. Being able to quickly and cheaply assess if drift is occurring will be a need of farmers in the future. Drift doesn't just affect organic farmers but also farmers that don't use herbicide resistant crops. My research doesn't offer any solutions to the problem but perhaps in the future I will be able to apply the knowledge I gained towards making a positive impact for farmers across the country.