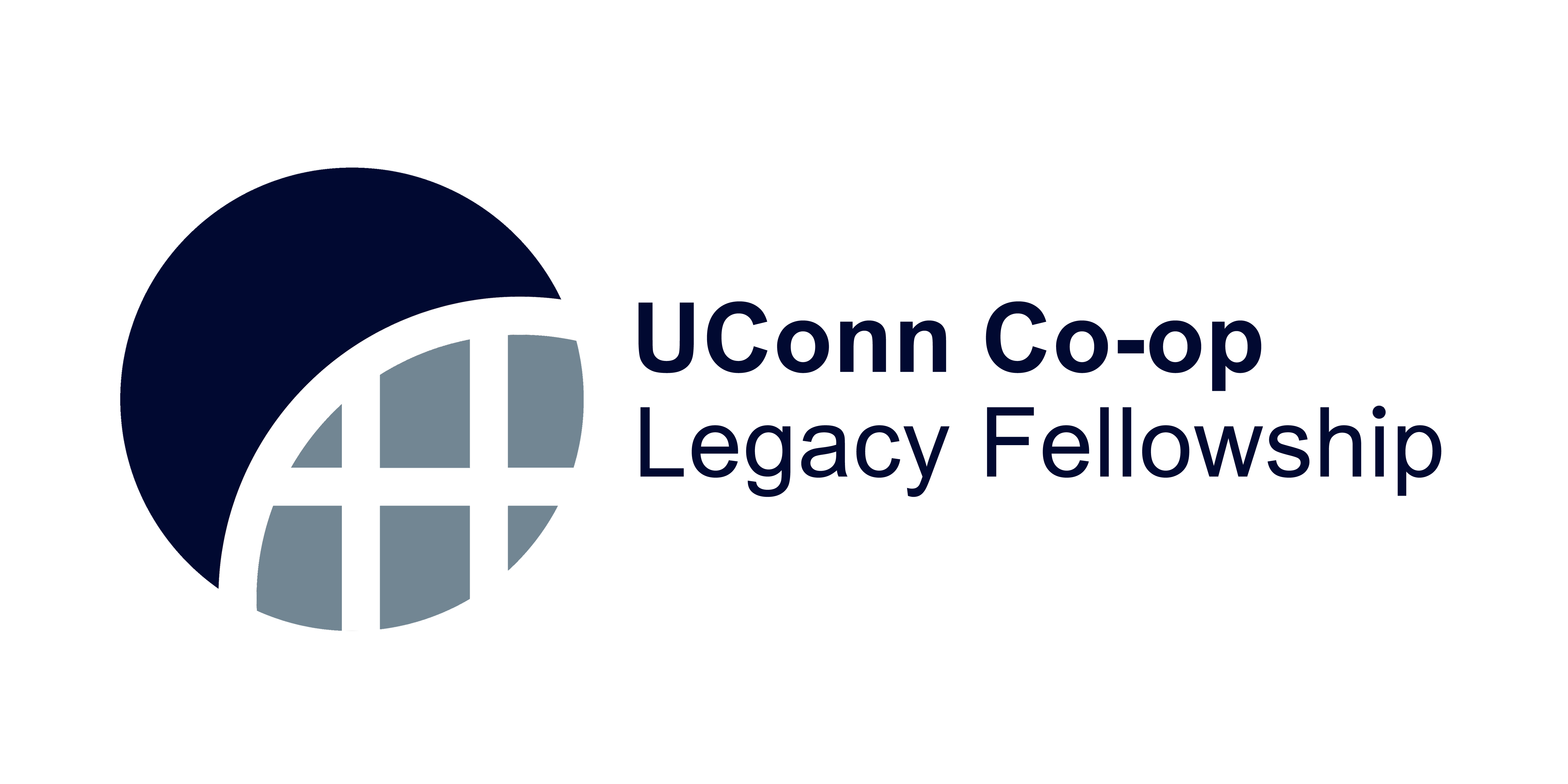 Submit an Application
Application Questions
Criteria for Review and Selection
Preparing a Budget
Letters of Recommendation
International Travel
---
Submit an Application
Applications for summer 2019 funding are now closed.
Please check back in the fall semester for updates.

Application Deadline: Tuesday, November 13th, 2018, 11:59pm
Students are encouraged to review the UConn Co-op Legacy Fellowship Application Outline prior to beginning the online application. The application outline includes all of the questions you will be asked and materials you will need to upload in the online application.

---
Application Questions
The application outline below lists all the questions you will need to answer and the information you will need to provide in the online application.
The online application will require you to upload the following items as PDF files:
A project proposal: In 4 double-spaced pages, describe your summer project and preliminary plan for achieving your project goals and objectives. Explain the significance of your project to your field and/or the impact of your project on the broader community.
A personal statement: In 2 double-space pages, explain the qualifications, skills, and abilities you possess that will enable you to complete this project successfully. Describe academic, work, and/or personal experiences that have prepared you for this project. Explain why this work is personally meaningful to you, what you hope to learn, and the significance of this project to your academic studies, future professional aspirations, and/or personal goals.
A budget worksheet: Using the Co-op Legacy Fellowship Budget Worksheet, provide an estimate of the expenses required to complete your project. Fellowship recipients will have the opportunity to further develop and refine their budgets as part of the required project development course.
Optional supporting materials: Submit up to 5 files of additional materials that support your proposal. This may include digital files such as an art or music portfolio showcasing previous work; supporting data, diagrams, charts, or graphs; design schematics or illustrations, or any additional materials you would like to share with the faculty review committee.
The final question on the application will ask you to certify that you have prepared your application materials in accordance with University standards for academic integrity. Learn more about academic integrity.
Please ensure that you have all of your responses and documents prepared for upload before initiating your application. The display logic of the application may prevent you from going back to modify prior responses, so we recommend that you refer to the application outline to prepare all necessary responses in advance. Please note that character limits include spaces.
If you have questions about Co-op Legacy Fellowship or the application process, schedule an appointment with program coordinator Melissa Berkey or contact her through email at melissa.berkey@uconn.edu.

---
Criteria for Review and Selection
All Co-op Legacy Fellows applications are reviewed by a committee of faculty members and current Fellows.
The review committee uses the UConn Co-op Legacy Fellowship Scoring Rubric to assess proposed projects. Applicants are encouraged to review the rubric as they draft and revise their application materials to ensure that they meet the criteria associated with strong proposals.
All projects are reviewed based on the following criteria:
The proposed research or creative project encompasses the core values of public engagement, innovation, and social impact
A realistic and feasible preliminary plan for carrying out the proposed project is clearly articulated
The impact and significance of the proposed work is articulated in compelling, but realistic, terms
The applicant has the necessary background knowledge and/or experience to successfully execute the project
There is a clear connection between the project work and academic, professional, or personal goals and aspirations
The budget is feasible and demonstrates understanding of the necessary expenses associated with the proposed work

---
Preparing a Budget
The Co-op Legacy Fellowship may award up to $5000 for expenses directly associated with approved project work.
As part of the application, you are required to submit a budget that outlines your anticipated project expenses. Start by considering each step of your proposed project, and the supplies, materials, and expenses associated with those steps. Itemize your supplies and materials, to the extent possible, and provide reasonable, economical cost estimates for the materials.
The Co-op Legacy Fellowship Budget Worksheet and accompanying budget tips will assist you with developing your estimated budget.
Fellowship recipients will have the opportunity to further develop and refine their budgets as part of the non-credit online project development course.
For questions on developing a budget or on allowable project expenses, schedule an appointment with program coordinator Melissa Berkey or contact her through email at melissa.berkey@uconn.edu.

---
Letters of Recommendation
As part of your Co-op Legacy Fellowship application, you are required to have one letter of recommendation submitted on your behalf. It is your responsibility to contact potential recommenders to discuss your project proposal, and secure their willingness to complete and submit a letter of recommendation by the application deadline.
Your recommendation should come from someone who can speak to your skills and qualifications as they relate to the proposed project, as well as your ability to successfully complete the work you are planning.
Recommendations will be accepted from faculty, professional staff, community mentors, employers or supervisors, or others who can speak to your abilities as they relate to the project. Letters of recommendation from family or peers are not appropriate.
Recommenders are asked to address the following items, as applicable, in their letter of recommendation:
For how long and in what context(s) you have known the student.
Your knowledge of and familiarity with the research or creative project the student is proposing.
Your assessment of the student's qualifications and preparation to engage in the proposed project.
Your estimation of the student's experiences, interests, and/or personal characteristics that would contribute to a successful project experience.
Your assessment of how this award and completing this project might benefit the student, the field of study, and/or have broader social impact.
To assist your recommender with writing a strong letter of support, you are encouraged to discuss your proposed project, share your interests in and motivations for pursuing the project, and talk about what you've done to prepare to successfully engage in the work. You are encouraged to show application drafts to your recommender for feedback on your proposal.
Our Information Sheet for Recommenders gives you the information you will need to provide your recommenders after they agree to write a letter on your behalf.
Students who have secured project mentorship prior to applying are strongly encouraged to ask their project mentor to write a letter of recommendation in support of the proposed project and their willingness to serve as the project mentor.
Letters of recommendation should be emailed to our@uconn.edu no later than Tuesday, November 13, 2018. Recommendations must be submitted by the recommenders. Letters of recommendation submitted by students will not be accepted.

---
International Travel
Students interested in traveling outside the United States as part of their projects must demonstrate that they have made adequate preparations for the logistics and challenges of research and creative work abroad. While these preparations can be furthered and finalized during the development stage of the Fellowship program cycle, the review committee will look for evidence that applicants have begun researching these matters as part of their assessment of the viability of the project.
Applicants proposing international travel as part of their Co-op Legacy Fellowship project will be required to answer additional questions related to their travel plans.  You are also encouraged to schedule an appointment with program coordinator Melissa Berkey and your faculty mentors to discuss your plans.
Travel Restrictions
The Co-op Legacy Fellowship will not support travel to any country with a U.S. Department of State Travel Warning or Travel Alert except pursuant to a waiver approved by the Provost's Office.
For more information on the waiver process, please review the following University travel policies.