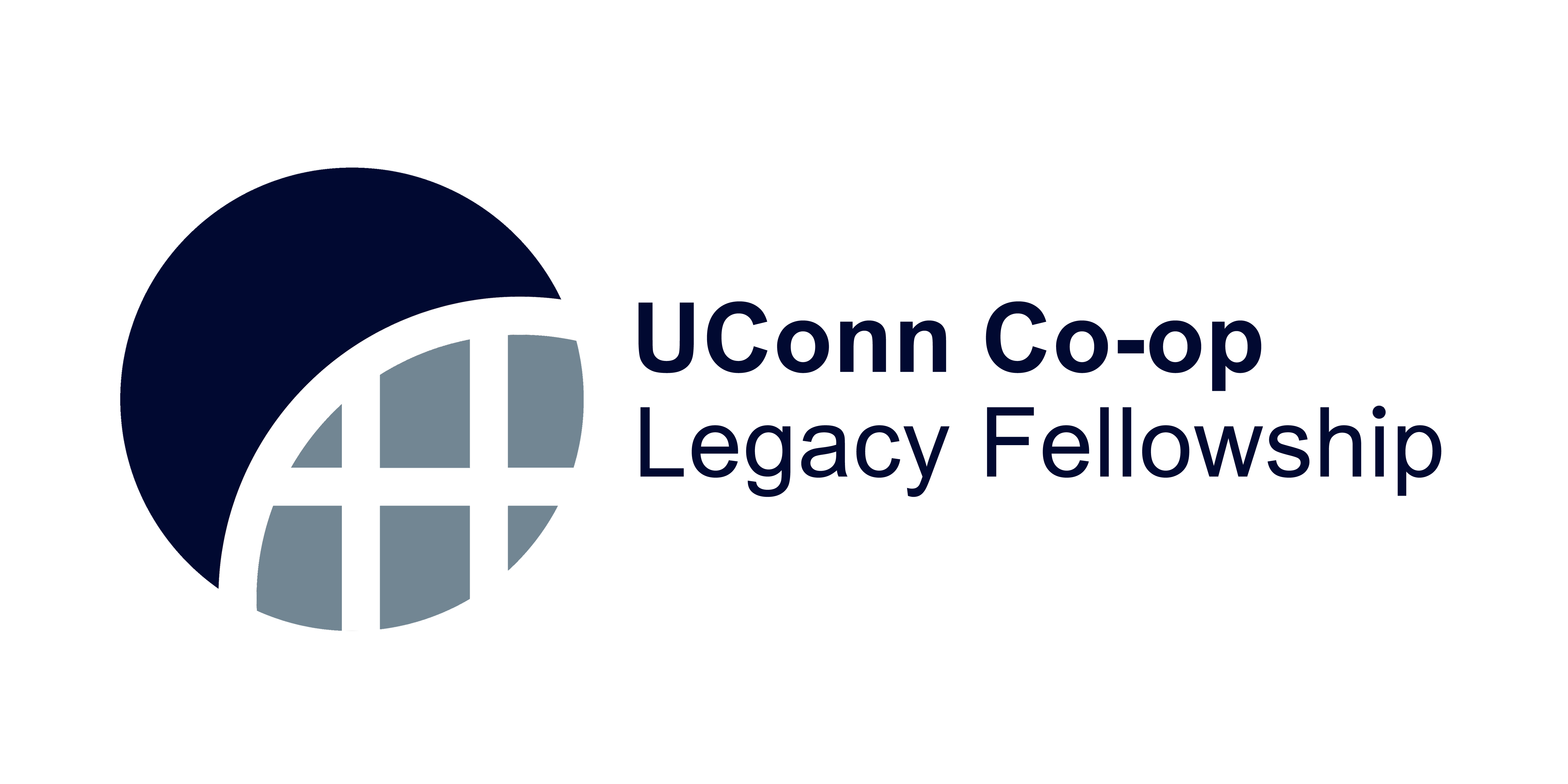 The UConn Co-op: A Legacy
Program Overview
Eligibility
Application Deadline
How to Apply
Information for Recommenders
Information for Project Mentors
FAQ
Forms and Materials
---
The UConn Co-op: A Legacy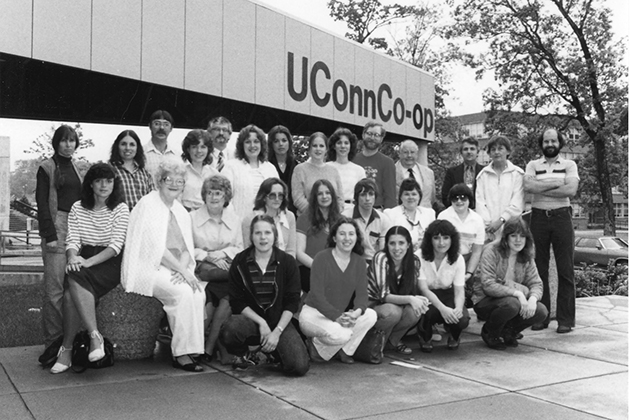 The UConn Co-op (University of Connecticut Co-operative Corporation) was a member-owned, student and faculty governed, non-profit bookstore that served the University of Connecticut for 41 years, incorporating in January of 1975, beginning operations in April of 1975 and selling its last book in June of 2016. The Co-op was deeply committed to supporting and enhancing the academic and cultural life of the University community. It was widely known for its numerous literary events, bringing high-profile authors to campus as well as hosting writers in many fields including faculty and student authors. It co-founded the Connecticut Children's Book Fair with the UConn Libraries and continued that partnership for 24 years. The Co-op was dedicated to the Arts, Human Rights, Diversity, and the Environment and worked closely with the Cultural Centers, many departments on campus, students and student groups, faculty, area schools, and the local community to further those aims.
As the bookstore, the Co-op served all the UConn campuses, providing course books and materials, computers and computer repair services, supplies, gifts and Husky branded clothing and merchandise. As a non-profit co-operative, the Co-op was able to offer competitive prices, as well as make donations to many worthy groups on campus and in the community. With its remaining funds, the UConn Co-op created endowments to continue its work and service to the University community.
---
Program Overview
Born out of the UConn Co-op's commitment to public engagement, innovative entrepreneurship, social impact, and active mentorship, the UConn Co-op Legacy Fellowship Program provides undergraduates the opportunity to pursue funded summer research projects and/or creative endeavors. Projects pursued through this program express the core values of the UConn Co-op: innovation, leadership, and service.
UConn undergraduates in all majors can apply for up to $5000 in funding to support their summer fellowship project.
This award is limited to those students who will be continuing at UConn the academic year following the summer fellowship project. Those interested in applying for the fellowship will be required to submit an application and secure a faculty mentor. Last, but certainly not least, those awarded the fellowship must register for a one-credit UNIV course meant to foster peer mentorship and provide further project guidance.
Click here to learn more about the students and projects that have been supported by this program.
---
Eligibility
To be eligible to apply for a UConn Co-op Legacy Fellowship to engage in a student-designed or student-led project in summer 2018, students must:
Currently be pursuing a bachelor's degree at UConn, and plan to graduate with that bachelor's degree no earlier than May 2019. This includes students pursuing Bachelor of Arts, Bachelor of Fine Arts, Bachelor of General Studies, Bachelor of Music, Bachelor of Science, and Bachelor of Science in Engineering degrees.
Be currently enrolled and in good standing.
Be supervised by a UConn faculty member. (Projects do not need to be completed on-campus, but someone at UConn must be actively engaged in the supervision of your work.)
Commit to registering for a one-credit UNIV course in spring 2018.
Commit to presenting their project outcomes at a Co-op Legacy Fellowship symposium in the fall semester.

---
Application Deadline
All application materials, including a letter of recommendation, must be submitted no later than November 6, 2017, 11:59pm.

Finalists may be asked to interview with review committee representatives as part of the selection process.
The OUR expects to communicate Co-op Legacy Fellowship offers during the week of November 27, 2017. Awards must be accepted by Friday, December 8, 2017.
---
How to Apply
Applications for the Co-op Legacy Fellowship are submitted online. Go to the Submit an Application page to learn more about the application process and to access materials to help you prepare a successful application.

If you have questions about the Co-op Legacy Fellowship program or the application process, contact program coordinator Melissa Berkey at melissa.berkey@uconn.edu or schedule an appointment with Melissa Berkey via AdvApp.uconn.edu under "Enrichment Programs."

---
Information for Recommenders
UConn Co-op Legacy Fellowship applicants are required to have one letter of recommendation submitted on their behalf. It is the student's responsibility to contact potential recommenders to discuss their project proposal, and secure their willingness to complete and submit a letter of recommendation by the application deadline.
Recommenders are asked to address the following items, as applicable, in their letter of recommendation:
For how long and in what context(s) you have known the student.
Your knowledge of and familiarity with the research or creative project the student is proposing.
Your assessment of the student's qualifications and preparation to engage in the proposed project.
Your estimation of the student's experiences, interests, and/or personal characteristics that would contribute to a successful project experience.
Your assessment of how this award and completing this project might benefit the student, the field of study, and/or have broader social impact.
Students who have secured project mentorship prior to applying are strongly encouraged to ask their project mentor to write a letter of recommendation in support of the proposed project and their willingness to serve as the project mentor.
DEADLINE FOR SUBMISSION
Letters of recommendation should be emailed to our@uconn.edu no later than Monday, November 6, 2017. Recommendations must be submitted by recommenders. Letters of recommendation submitted by students will not be accepted.
Any questions or concerns about recommendations should be emailed to our@uconn.edu. You may also contact OUR by calling 860-486-7939 – we are happy to answer any questions you might have!

---
Information for Project Mentors
Effective supervision is a key factor in a successful fellowship experience. Students benefit from the guidance of their mentors when they learn new techniques, encounter and seek to overcome roadblocks, work to interpret their findings, and map out next steps. We recommend that Co-op Legacy Fellows and their faculty mentors discuss when and how they will communicate (e.g., in person, via Skype, via telephone, via email updates) over the course of the student's work on the project. These advance arrangements are particularly important when the student and mentor will be working in different locations.

---
FAQ


Does receiving a Co-op Legacy Fellowship affect my eligibility for other OUR awards?
You may not receive a Co-op Legacy Fellowship and a SURF Award or UConn IDEA Grant concurrently. Students considering applying to these award programs should schedule an appointment with Melissa Berkey to discuss their proposed project. Appointments can be schedule via AdvApp (listed under "Enrichment Programs") or through email at melissa.berkey@uconn.edu.

I'm completing my degree requirements over the summer. Can I get a Co-op Legacy Fellowship?
No. Co-op Legacy Fellowship recipients must plan to graduate no earlier than May 2019.

If I receive a Co-op Legacy Fellowship, can I enroll in a summer course?
UConn offers a number of different summer sessions that vary in duration. We recommend that you pursue no more than 3 credits of coursework simultaneously with your fellowship project. You may elect to schedule your fellowship project weeks so as not to overlap with weeks when you will be completing summer coursework, or you may elect to adjust your time commitment to your fellowship project during those weeks.

I know I want to do part of my project abroad, but haven't decided what country I want to travel to; do I need to know this before I apply?
Yes, you do. Those students proposing international travel as part of their Co-op Legacy Fellowship applications will need to answer additional questions about how they determined that the country (or countries) to which they intend to travel is appropriate for the project, and their plans for navigating language barriers (if applicable). Please see our section on International Travel for further information.

My recommender is unable to submit his or her letter by the application deadline – does this hurt my chances of getting a Co-op Legacy Fellowship?
Applicants are encouraged to speak with recommenders early in the process, allowing them ample time to write and submit letters of recommendation. We understand that extenuating circumstances and busy schedules can make it difficult for recommenders to submit letters by the deadline. Applicants need to make every effort to ensure letters are submitted and their application is complete by the deadline. To ensure fairness to all applicants, complete applications will receive priority consideration for funding.

Can I start my project in the spring semester and continue it into the fall semester?
Yes, your Co-op Legacy Fellowship project can be part of longer-term involvement in research or creative activity. In preparing your Fellowship application, it is important that you articulate the goals and outcomes specific to the summer portion of the larger project and build your budget to reflect the costs of your summer work.

I have questions about the Co-op Legacy Fellowship; is there someone I can speak with?
If you have questions about Co-op Legacy Fellowship or the application process, contact program coordinator Melissa Berkey at melissa.berkey@uconn.edu or schedule an appointment via AdvApp.uconn.edu under "Enrichment Programs."

I was not selected to receive a Co-op Legacy Fellowship. Can you tell me why?
OUR staff are available to meet with applicants to provide feedback about the strengths and weaknesses the review committee identified in their proposals. We will not provide rubrics, scores, or name the reviewers of particular proposals. Please contact program coordinator Melissa Berkey at melissa.berkey@uconn.edu or schedule an appointment via AdvApp.uconn.edu under "Enrichment Programs."

---
Forms and Materials
---