Meet Emy Regan '19 (SFA), an OUR Peer Research Ambassador (PRA) majoring in Art – Illustration.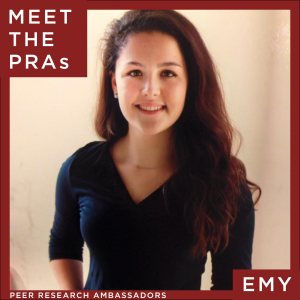 What is the focus of your research/creative activity?
I wrote and illustrated a comic book about a haunted Newport mansion. My goal was the create a spooky, but not scary, piece of entertainment that could be enjoyed by children and adults. I was also interested in exploring New England's Gilded Age history through the architecture of the Newport Mansions.
Why did you get involved in research/creative activity?
I got involved in creative activity because I wanted an opportunity to work independently on my projects, outside my classwork. I wanted a chance to dig deeply into an idea and my project was able to give that to me.
What advice would you give to incoming freshmen?
Always be on the lookout for opportunities to pursue your research or creative goals. Opportunities are rarely delivered to your doorstep. You will have to engage in your subject area, talk to professors, and be dedicated to your goals.
What do you enjoy the most about participating in research/creative activity?
I enjoy the independence of working on a long-term project. It was very fulfilling to make creative decisions for myself and I gained a great deal of confidence knowing that I am capable of making these decisions.
What is your greatest accomplishment so far?
My greatest accomplishment so far is completing my IDEA Grant project. Completing my comic book was the first time I completed any independent, long-term project. I feel much more confident in my abilities after successfully writing and illustrating my project, as well as hanging and hosting an exhibit to showcase my work.
---