This summer, six Honors freshmen pursued their passion through individualized, self-designed research projects with funding from the Holster Scholars First Year Program.
The Holster Scholars First Year Program, funded by an endowment established by Robert and Carlotta  Holster, provides Honors freshmen with the opportunity to pursue independent and individualized learning experiences.  Prospective scholars complete a highly selective application process in the fall of their freshman year, submitting an innovative  project proposal. Holster Scholars are eligible for up to $4,000 in funding, and spend the spring semester fine-tuning their project plans.  They carry out their research in the summer.
This year, six Holster Scholars pursued a kaleidoscope of investigations, in fields ranging from creative art to neurobiology.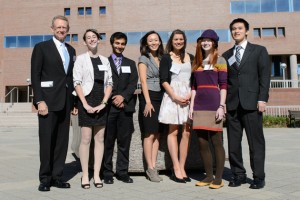 Each Scholar received personalized mentoring from a faculty member in the development and implementation of their projects.  Former Holster Scholars also provided peer support to this year's group.
The 2012 Holster Scholars presented their summer projects last month at the Dodd Center.  Among those present were their mentors and donor Robert Holster,  himself.
Lior Trestman '15 (ENG) is an Honors biomedical engineering major who became intrigued by the idea of developing his own research after watching the first Holster Scholars present their projects in 2011.  He satisfied his desire to explore ways of improving human health and the environment by using microbial fuel cells to purify water while simultaneously creating energy.
"About 1 billion people on the planet don't have access to clean water or electricity," says Trestman.  Trestman spent the summer developing and optimizing  fuel cells, which take wastewater and, using various chemical processes, reduce the bacteria and other organic matter into more elementary substances.  What makes this process different from common methods of water filtration is that it provides clean water while simultaneously creating electricity.  With future research and development, this self-sustaining method of purifying water could potentially provide drinkable water and electricity to populations that do not have access to either.
Kaila Manca '15 (CLAS) is a physiology and neurobiology and cognitive science major. She is interested in the treatment of aphasia, a partial or total loss of the ability to communicate verbally or using written words, in stroke patients.  She has had a longstanding interest in the mind and its inner workings, but Manca's project was directly influenced by her experience with her grandmother's stroke.  "It is always important in research to be passionate about what you are investigating," says Manca.
For her project, Manca analyzed conversational samples from five participants in graduate student Jen Mozeiko's research in Contraint Induced Language Therapy on stroke patients, a concentrated approach to the treatment of aphasia.  Manca transcribed the samples and analyzed each participant's word choice.  Manca was especially concerned with the type-token ratio of the samples, which measures the vocabulary variation in an individual's speech.  She found that the stroke patients reached a point in their treatment in which their type-token ratio plateaued, indicating a threshold in the variability of their vocabulary.  Manca hopes to further pursue this research in the future in order to determine whether aphasia is the true cause of this impasse in communication.
Julianne Norton '15 (CLAS), a psychology major, was surprised to find that the Holster Scholar Program funded arts-related research projects. "I always thought that research was really just for science majors," says Norton.  "It's amazing to me that the program accepted creative art projects.  It really shows they have an open mind."
Norton's summer project was focused on art through postmemory, a fascination that stemmed from having two grandparents who survived the Holocaust.  Postmemory refers to the effect of a traumatic cultural event on a second generation; in this case, it refers to the emotions summoned by the photographs and narratives that Holocaust survivors pass on to subsequent generations.  Norton took a piece of artwork from each of the past four generations of her family and recreated those pieces, responding to the themes and ideas they evoked through her own paintings and sculpture.
This year's Holster Scholars will be mentors to next year's Scholars. "I would highly recommend the program to someone who has found something they are really interested in and want to spend a lot of time looking at," says Trestman.
"There is no other place where I could have been able to experience the opportunities that have been available to me here at UConn so soon," Manca adds.  "I feel really grateful to the Honors program."
(adapted from a UConn Today Story by Mirofora Paridis '13 (CLAS)
---