Program Overview



Program Details and Eligibility
Application Deadline and Hiring Timeline
How to Apply
Review and Selection
FAQ
---
Program Overview
The UConn-TIP Internship Program pairs UConn students with on-campus University start-up companies for mentored research internships in Business or STEM areas.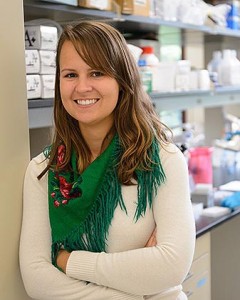 What is a University Start-up Company?
A University start-up company can help a UConn discovery or innovation become the next new product or therapy. There are more than 20 University start-up companies in UConn's Technology Incubation Program (TIP). These companies are developing and commercializing new technologies in areas like vaccines, medical devices, software, pharmaceuticals, manufacturing, and more.
What kind of research does a UConn-TIP intern do?
UConn-TIP interns participate in mentored research with their host TIP company. The research could be in STEM or Business areas such as:
chemistry, molecular biology, pharmacology, bioengineering, computer sciences and more
marketing, accounting, planning, communications, management and more
UConn-TIP interns receive special academic enrichment including seminars and final research presentations at UConn-TIP Intern Research Day (view the 2016 Program) and UConn's Frontiers in Undergraduate Research.
➡ Read the Hartford Courant's article about the UConn-TIP Internship Program.
➡ Listen to the Discovering New Advances (DNA) podcast on WHUS about the UConn-TIP Internship Program.
UConn-TIP Companies are located in TIP facilities at the Storrs, Farmington, and Avery Point campuses (left to right, below).
What UConn-TIP Intern programs are offered?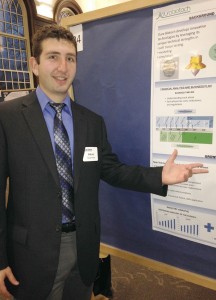 Summer Program – mentored 10-week long summer internships
Open to UConn undergrads, master's students, and recent grads
Summer interns receive a stipend: typically* $3,500 for undergraduate students and $5,000 for master's students (*some stipend levels may vary)
Students from any major can participate
Only UConn students are eligible
CT or US citizenship is no longer a requirement
Research-for-Credit – academic credit earned for part-time research
Open to any enrolled UConn student (undergraduate or master's)
Fall or Spring semesters
Unpaid
Requires previous experience as a UConn-TIP summer intern
Summer 2017 Program Dates: May 30 – August 4
The application for the 2017 summer program is now closed.

Program Contact:
Dr. Caroline Dealy, Director, UConn-TIP Bioscience, Entrepreneurship & STEM Internship Program
dealy@uchc.edu – 860-679-1193
---
Program Details and Eligibility
Summer Program Eligibility
Interns must be UConn undergraduates, master's students, or recent graduates (within 6 months of graduation: December 2016 and May 2017 grads are still eligible to apply for the summer 2017 program).
Interns must be available for all 10 weeks of the program (May 30 – August 4), including Research Day (August 2), and will work 40 hours per week.
Interns are required to participate in the academic components of the program (see below).
Interns must be eligible for employment in the United States.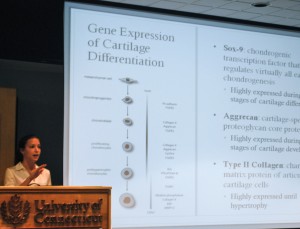 Required Academic Components
Research presentation at UConn-TIP Intern Research Day (August 2), a full-day event featuring intern short talks, a networking luncheon, and a keynote entrepreneur speaker.
Poster presentation at UConn's Frontiers in Undergraduate Research Symposium (October 2017 or April 2018) for undergraduate interns.
Attendance at a weekly seminar chosen from a wide range of topics in STEM, Business, or Entrepreneurship.
---
Application Deadline and Hiring Timeline
The application for the Summer 2017 program is now closed. Candidates will be contacted directly by interested TIP companies for interviews, and offer letters to successful interns are typically issued by early April.

---
How to Apply
The 2017 Application is now closed.
In addition to GPA and test scores (ACT, SAT, GMAT, and/or GRE), applicants will be asked to briefly describe any prior research experience or relevant coursework, and why they are interested in the UConn-TIP Intern Program. Transcripts and letters of recommendation are not required to apply but may be requested by the interviewing TIP company.

---
Review and Selection
Consideration for intern selection includes GPA, SAT/ACT scores, prior experience and coursework, and research interest. Applications are reviewed by the Program Director with input from the Program Advisory Committee. Interns are selected directly by prospective host TIP companies from the pool of eligible, screened applicants through a competitive process typically involving an interview followed by an offer letter. Application to the program is not an obligation to participate; interns contacted for interviews will have the choice of accepting an internship in a company.
Role of the Host TIP Company
The host TIP company provides an intern mentor, who is pre-screened by the program. Intern mentors will supervise and advise student interns, and provide guidance and direction in their research project and in preparing their final research presentations. TIP host companies provide space and necessary research supplies.
Intern Safety and RCR Training
Interns will receive lab safety training as needed from UConn/UConn Health, and are also required to take a UConn Health workshop in Responsible Conduct in Research.

---
FAQ


How did the UConn-TIP Bioscience & STEM Summer Research Intern Program come about?
Read the story at http://today.uconn.edu/blog/2012/10/new-biotechnology-intern-program-offers-students-real-world-lab-experience/.

What have previous interns said about their experience?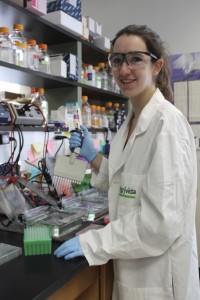 How can I learn about the kind of research that TIP companies do?
Interns contacted for interviews by a TIP company are encouraged to ask about what kind of research project they may be involved with.

What will my TIP mentor be like?
As TIP companies are small, TIP mentors could be the company's President or CEO, or could be a lead research scientist within the company's technical area. Some TIP mentors are current or former UConn faculty, or UConn alumni.

How competitive is the intern selection process?
In past years, 10-15% of applicants to the summer program were ultimately placed. The 2017 program aims to place up to 15 summer interns.

I am interested in a STEM internship. Do I need prior laboratory bench research experience?
Lab bench research experience is not a strict requirement, but most STEM interns placed in the program do have prior independent (i.e., not just coursework) lab research experience.
Yes.

I will be graduating this Spring. Can I still apply for a summer UConn-TIP internship?
Recent UConn graduates (within 6 months of graduation, i.e., December 2016 or May 2017 grads) are eligible to apply for the Summer 2017 intern program.

Can my summer intern experience be longer than 10 weeks?
The program provides a stipend only for the specified 10-week intern period. Interns interested in extending this period should discuss this with their TIP host company.

Will summer housing be provided?
Summer housing is not provided, but students may apply for available on-campus housing. Visit Summer Housing Info for more information.

I am a minority student. Are there opportunities for me in the UConn-TIP Intern program?
The UConn-TIP Intern Program is an equal-opportunity program. Applicants who are enrolled in our partner programs (the McNair Scholars Program, via the UConn Center for Academic Programs, and the UCHC Health Careers Opportunity Program), are especially encouraged to apply for the UConn-TIP Intern Program.

Can I do research in a TIP company during the school year?
In the UConn-TIP Research-for-Credit Program, UConn students earn academic credit for part-time research in host TIP companies in the Fall and Spring terms. Previous experience as a summer UConn-TIP Intern is a requirement for the Research-for-Credit option.

Who is involved in the UConn-TIP Intern Program?

I have questions about the program; who should I contact?
Please contact Dr. Caroline Dealy, Director, UConn-TIP Bioscience, Entrepreneurship & STEM Internship Program, at dealy@uchc.edu or 860-679-1193.

---